Scary Stats Of The Day
December 21st, 2014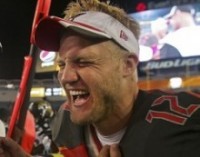 Bucs fans will be leaving the Stadium on Dale Mabry highway early today if Josh McCown has one of his typical games.
Man, the Bucs could be down three scores at halftime.
A couple of things the Packers do very well could spell doom.
Green Bay has 17 interceptions, good for sixth-best in the NFL. They're fifth in the league in passes defensed with 91. The Bucs by contrast, are in the bottom third of the league in both categories.
It would be nice to see McCown play like a veteran for a change; make sound decisions instead of rookie mistakes.
Joe gets that McCown is allegedly a great mentor for a young quarterback, but Joe's wondering how legitimate that is when the guy performs like a rookie consistently.