Rookie Guards Await Bucs
December 13th, 2014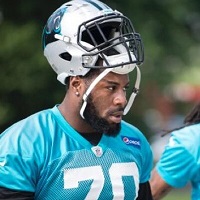 If the Bucs defense has really turned a corner, if Leslie Frazier and Lovie Smith are savvy, elite defensive minds, then the Panthers' offense should be handcuffed starting two rookie guards and a backup quarterback tomorrow.
Anything less would be unacceptable.
The Panthers' offense should struggle.
The rookies up the gut of the Panthers offensive line are third-round pick Trai Turner and undrafted free agent Andrew Norwell. They're part of a Panthers line that's starting to jell. In their blowout of the Saints last Sunday, an identical Carolina O-line was together for the second consecutive week for the first time in two months. They were an injured jailbreak much of the season, but now it's improved.
Oh, and a Bucs practice squad guy in 2012 and 2013, Mike Remmers, has started the last two games for the Panthers at right tackle, his first two starts of the season.
This is not a special unit, outside of super stud Ryan Kalil at center.
So whaddya got to offer, Coach Smith?
What's going to be dialed up to take advantage of a sketchy O-line and the fourth best QB in the NFC South, Derek Anderson? Joe will settle for the Bucs sticking to tight end Greg Olsen like glue. That would be refreshing.