THE OPTIMIST: Positives Plentiful
December 13th, 2014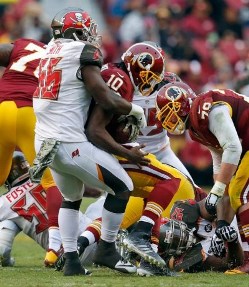 In these unsettled times of devastating Bucs losses, constant change and growing pains, Joe thought it would be wise to bring back THE OPTIMIST.
THE OPTIMIST is Nick Houllis, a Bucs fan and an accomplished writer whose steadfast allegiance to the Buccaneers goes back to the 1970s. Houllis is the founder, creator and guru of BucStop.com, a place Joe goes to get lost in time via Houllis' stunning video collection.
THE OPTIMIST will shine that positive light in your eyes. Some will love it. Some won't. … Of course, THE OPTIMIST's opinions are his alone and are not influenced by Joe.
It's not all bad if you look for the silver lining!
Sure, there are no playoffs for the Bucs this year, but Tampa fans got to enjoy a playoff-chasing atmosphere all the way until December, thanks to the NFC South!
Nothing like playing meaningful football around Thanksgiving!
Seriously, though, just imagine if only three of those tough losses had not gotten away from the Bucs?
Plentiful Positives
Believe it or not, there are some things to still look forward to this season. For the first time ever, Tampa Bay Buccaneers could have two, not one, two 1,000-yard receivers in the same season, in spite of having one of the worst offenses in Bucs history. That's how good Vincent Jackson and Mike Evans are — with Josh McCown and Mike Glennon quarterbacking.
The Bucs have discovered two solid players on defense in Danny Lansanah and Jacquies Smith. Few fans knew who those players were, and now we're hearing about them every week as the defense continues to improve and play at a higher level.
Lavonte David is third in the NFL in tackles, while Gerald McCoy is 15th with his 8.5 sacks. We may see the first double-digit sacker since 2005. Smith also is only four away from the same goal.
Johnthan Banks quietly ranked fifth in the league in interceptions with four, two behind Tashaun Gipson of Cleveland.
Remember the whitewashing this defense took at the hands of Baltimore and Atanta? The defense is playing quite different. Even though Detroit put up good numbers, the Bucs defense did some good things. You get the feeling going into the next season the Bucs defense will be ready to play.
Expect the offense to get retooled, but if V-Jax returns with Mike Evans, that's one part of the mix you won't have to worry about showing up.