Mike Evans Has Saved Lovie
December 7th, 2014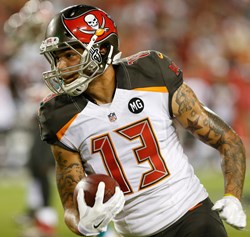 Man, there is really only one reason to watch the Bucs this year. It has been the play of wide receiver Mike Evans.
If overlord of football operations Lovie Smith got one thing right this past offseason, it was drafting the rookie from Texas A&M. Man, he is something special, as he again tore apart an opposing defense, scoring two touchdowns today.
Evans' second touchdown was a thing of beauty. He caught a pass that looked to be awkward for him to catch along the left sideline of the end zone, Evans has to do a tap-dance with this feet, all the while falling forward and trying to maintain control of the football.
Evans may be the best Bucs receiver Joe has ever seen. He's a game-changer. And he has saved Lovie's bacon.
Just look at all the offseason moves Lovie made, and with the exception of Evans and Alterraun Verner, nearly all have all blown up in his face. From draft picks who can't get out of the hot tub, to draft picks who are largely mediocre, to draft picks you don't even know are on the roster. From free agent pick ups like Michael Johnson to that slug Mike Jenkins, the past offseason was beyond horrible for Lovie.
The selection of Evans is helping folks forget about all the swings and misses in the rest of the free agent/draft pick evaluations.
"Mike has made a lot of big plays for us," Lovie told the Buccaneers Radio Network after today's game. "On days like today you have to look at the bright spots and Miek has made them. He is a good football player."
Joe only wishes the Bucs got great plays out of the rest of the guys Lovie added to the roster this past offseason. Joe hopes Lovie never sees the inside of his suburban Chicago basement again.