Mike Evans Approaching History
December 11th, 2014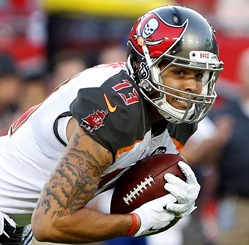 Joe just cannot believe how long the past 12 months have been, and how much has happened, starting with a new coach, new general manager, new assistant coaches and tons of new players.
Even the most ardent pewter-colored-glasses-wearer must admit virtually every major player transaction, but a scant few, has been a major swing and a miss.
Currently, the only player the Bucs are getting any reliable production from is first round draft pick Mike Evans.
How good has Evans been? Well, he's the best receiver on the roster, surpassing veteran Vincent Jackson. And Evans needs just two more touchdown catches to be the franchise leader for most TD catches in a season. The current record is 11, held by mattress-in-the-front-yard Mike Williams, set when he, too, was a rookie in 2010.
"It would be cool," Evans said yesterday when he met with the Tampa Bay pen and mic club. "It's a great accomplishment for me and my family. Hopefully I get it."
If anyone wants to know this franchise's miserable history on offense, just look at the guys who are Nos. 1 and 2 in touchdowns for a season: they're a pair of rookies.
Boy, oh boy, Bucs general manager Jason Licht sure hit a home run with Evans.
To hear more from Evans, click the arrow below. Audio courtesy of Joe's friends at WDAE-AM 620.