Time For Defensive Wizards To Step Up
December 11th, 2014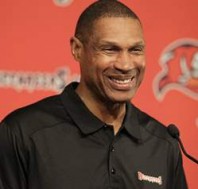 Yeah, yeah, yeah, lots of Bucs fans want Tampa Bay to lose its final three games and get in position to draft an elite quarterback prospect.
But there is a game to be played Sunday, and Joe wants to see defensive wizards Lovie Smith and Leslie Frazier find a way to stop Panthers quarterback Derek Anderson, the fourth best QB in the NFC South.
Lovie can't let Anderson carve him up twice in a season. That can't happen. It just can't. That's not too much to ask.
Yes, Anderson make the Pro Bowl seven years ago, but that was seven years ago. He hasn't been good since.
On opening day, Anderson carved up the Bucs, completing 70.6 percent of his passes for 230 yards and two touchdowns with no interceptions. Lovie and Frazier have a more seasoned defense now, one that's improved but was ugly in Detroit. These two veteran coaches should be salivating at the thought of using their deep knowledge of Anderson to their advantage. The Panthers' offensive line is far from special.
Joe sees Sunday as a big defensive coaching test. If the Bucs have made strides, they should be able to punish the league's 19th-ranked offense with its backup quarterback under center.