McCown Paving Path For Mariota
December 15th, 2014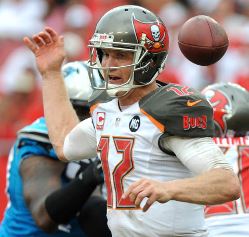 It really is this simple: Josh McCown is not Lovie Smith's kind of quarterback. He really isn't.
Oh, Lovie sang hosannas over McCown — a guy he cut in Chicago — as if he was the second coming of Roger Staubach. Anyone with a sober mind and a sense of history thought this was a hard sell, you know, that car was only driven by an old lady who took it to church once a week.
Well, turns out McCown is who we thought he was: a journeyman quarterback prone to mistakes. Lovie had it right in Chicago when he cut him. He's not Lovie's kind of quarterback.
Lovie likes to play close games. Let the defense keep you in the game. Problem with this philosophy is you must rely on chance (turnovers), and you also have to play nearly mistake-free football. Any little error can gum up the whole works.
Not only don't the Bucs play error-free football, McCown is a turnover machine. He is playing so badly that veteran sports columnist Gary Shelton believes McCown is doing his best to see to it the Bucs draft Marcus Mariota, so he wrote on GarySheltonSports.com.
Say what you want about Marcus Mariota and his inaccuracies or Jameis Winston and his list of controversies. But can either of them play the position any worse than the Bucs are playing it? Frankly, you can bring back Jack Thompson or Trent Dilfer or Josh Freeman, and they would have trouble playing any worse. Okay, come to think of it, maybe not.

Still, those are the levels the Bucs are approaching. Sunday, McCown had two more fumbles, both at the worst times possible, and a game-sealing interception. That's the thing about McCown. He keeps making these gut-wrenching turnovers, like a backup quarterback who is having too much asked of him.

And sure enough, every week, it seems to get the better of the Bucs. Come to think of it, McCown looks like he might be the biggest Mariota fan in the state. He may have a poster over his bed. What more could he do to get this guy to town? Pick him up and drive him to town?
You know, McCown does look like a quarterback who is trying too hard. He looked like that Week 1 against Carolina, and he looked like that in Week 15 against Carolina.
Joe is confident McCown will not be the Bucs starting quarterback next year. Oh, he could be a perfect bridge to a rookie quarterback. But could he play any worse than Mariota and/or Winston? Doubtful.
Just something tells Joe your 2015 starting Bucs quarterback will either be drafted, traded for, or signed as a free agent. And a cautionary tale here, folks; NFL teams don't generally get rid of decent quarterbacks.