Jameis Watch: The Numbers
December 15th, 2014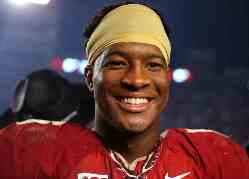 Crab-legs-stealing, BB-gun-shooting, obscenity-hollering, Heisman-Trophy-winning, national champion James Winston, the pride of Florida State University, continues to look like a much better quarterback prospect than Mike Glennon and Josh McCown.
It's Joe's daily nugget on the Jameis Watch, celebrating the best quarterback to wear No. 5 ever in the state of Florida.
Joe was so aghast the Bucs were planning to select Josh Freeman with a first-round pick in the 2009 draft for two reasons: 1. Freeman never threw for a 60 percent completion percentage. That is usually a threshold. Very rarely do quarterbacks who cannot complete 60 percent of their passes in college do so in the NFL.
No. 2: Freeman never put Kansas State on his back. The Wildcats with Freeman were a middling team. OK, not good. Average, even though Freeman had a future NFL Pro Bowler to throw to, Jordy Nelson. That spoke volumes to Joe.
That brings Joe to Jameis Winston, whose numbers have been consistent during his two years at Florida State (66.9 and 65.4 percent completed, respectively), though his interceptions jumped this year (maybe because of lesser receivers, maybe because of a lesser offensive line). His numbers resemble Teddy Bridewater's at Louisville.
The big difference between Winston and Freeman is that Winston may be the biggest clutch quarterback Joe has seen in a long time in college football. He has yet to lose. If he can win two more games, then he will leave college football undefeated. That is simply an amazing thought.
The fact Winston can dig FSU out of a hole week after week impressive. It often says more about a guy's intangibles than anything else. Something Freeman, for example, lacked.