McCown Logic Is Hard To Explain
December 14th, 2014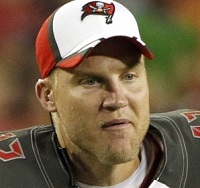 After today's display of poor ball security and pedestrian play, Josh McCown's statistics now reveal a veteran quarterback who is worse than Mike Glennon in nearly every category.
Man, Glennon sure could teach McCown how to tuck the ball and eat a sack, a lesson McCown simply hasn't learned.
McCown fumbled three times today, at least two were on him.
He completed less than half his passes.
Joe can't comprehend the logic at One Buc Palace that has McCown serving as starting quarterback. He is without question the sixth-best quarterback in the NFC South.
Look, Joe's been screaming for the end of the McCown era since he walked off the field in Atlanta following his third humiliating game as the Bucs starting quarterback and the team sitting with a 0-3 record.
Starting Glennon still makes every last bit of sense in the world — unless the Bucs are gunning for the No. 1 overall pick in the 2015 NFL Draft.
That's the only logical explanation for forcing Bucs fans to endure two more starts for McCown.