Bucs Must Be Prepared In 15 Days
December 14th, 2014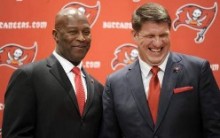 Joe's getting nervous.
Will the Bucs be ready to hire a new offensive coordinator in 15 days, when Black Monday comes and coaches are fired around the league?
The Bucs must be prepared to pull the trigger on the best candidate money can buy. If they're not ready, another team can swoop in. And there is no excuse for not being ready. Every year, there is major upheaval in the NFL coaching ranks, and all kinds of moves go down fast.
Even the craziest of rah-rah Buccaneers fans knows de facto offensive coordinator Marcus Arroyo should not return in the same role next season.
That's clear.
So now what? Are the Bucs ready to pounce?
Joe suspects the Bucs are as ready as they could be at this point. Team Glazer, hopefully, has demanded to see a short list and demanded readiness.
The bungling of that hire would be far worse than anything Bucs fans have seen on the field this season.
Don't let hit happen, Bucs.