GMC Should Shut It Down
December 14th, 2014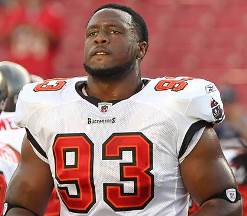 Look, no one loves Gerald McCoy as much as Joe. He is the heart and soul of this team. He is a self-professed leader.
But after leaving today's game with the second knee injury in as many weeks, an injury Lovie Smith called a hyper-extended knee injury, enough is enough. Time for GMC to start planning on his Cancun vacation.
There is no person more important to the Bucs than GMC, who believes he should be on the field at all times, pain or no pain.
However, these two final games to finish the season are totally meaningless, save for the Chase for Jameis. The Bucs need GMC healthy and 100 percent next year, not hobbled for half the season.
Shut it down, Gerald. No sense in letting your pride get in the way of common sense.
And Lovie, if you were a true leader, you would tell GMC in no uncertain terms his season is over. He is too valuable to throw away a career (possibly) on garbage games.
Let's just cross our fingers that GMC's injury is just the hyperextension Lovie reported earlier.