McCown By The Numbers
December 1st, 2014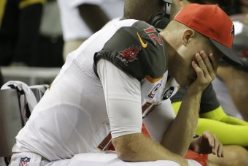 Caution: The following may induce vomiting.
In total, the Buccaneers have pumped 44 balls downfield for 20+ yards. That's tied for sixth best in the NFL. Josh McCown, despite eight more passing attempts than Mike Glennon, has completed two fewer throws of 20+ yards than Glennon.
McCown's 59.2 percent completion rate might sound pretty good to the casual NFL fan, but consider that rate ranks 39th in the NFL. That puts McCown behind rookies Zach Mettenberger, Teddy Bridgewater and Blake Bortles. Glennon is 43rd overall.
As for McCown's nine interceptions in 211 attempts, that puts him the same ballpark of NFL slugs Geno Smith (10 INTs in 245 attempts) and Kirk Cousins (nine picks in 204 attempts). Glennon has six picks in 203 attempts, a respectable rate.
McCown's seven touchdown throws? That also ranks him among some NFL rookies, as well as Geno Smith and Drew Stanton. Notice a trend. Glennon has 10 TD passes.
Quarterback rating? Joe hates that stat, but for those who find it meaningful, McCown ranks 45th in the NFL with 75.1 rating. Glennon is 33rd with an 83.3 rating.
Yes, stats are for losers. McCown is good at losing, too. He's 1-6 as a Tampa Bay starter. His career mark is 17-28.
Who would you start Sunday?