Johnthan Banks Leads NFC In Interceptions
December 1st, 2014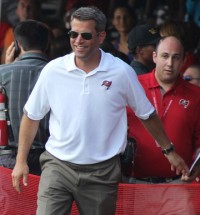 Damn that former rockstar general manager Mark Dominik.
How dare he even live in Tampa any longer after drafting guys like Johnthan Banks and Lavonte David in the second round, plucking a practice squad slug like Danny Lansanah, and signing a safety off the street like Bradley McDougald.
Of course, Joe's having a little fun on this Monday morning, following another mind-numbing defeat at the Den of Depression, where the Bucs have lost seven consecutive games.
Yes, Dominik's stamp is all over the currently surging Bucs defense. With nose tackle rock Clinton McDonald out yesterday, second-year man and 2013 fourth-round pick Akeem Spence stepped up well in his first start since 2013. Spence was credited for a half sack and, per NFL.com, had three tackles and four assists.
Banks' first-quarter interception gave him four this season. That ties him for the most picks in the NFC. The only other cornerback with four is Perrish Cox of the 49ers.
Damn that Dominik.