Happy Anniversary "Read More"
December 1st, 2014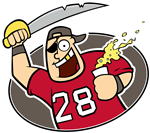 Regular readers might recall that Joe took a massive beating on these here pages when Joe had the nerve compel readers to click a "read more" button on stories beginning last November.
The gall of Joe to operate his site like the rest of the Internet! Readers would leave Joe in droves, so many predicted.
 Well,  Joe's got a little year-over-year, "read more" traffic data now, and the reality is Joe's traffic has increased significantly.
In fact, Joe expects more traffic in December 2014 than in December 2013, despite last year's imminent firing of Greg Schiano and the drama of the hours before Lovie Smith was hired.
Joe has no regrets for making the "read more" change. A majority of JoeBucsFan.com readers like to scan headlines and click on a post or two. Those good folks have a smoother experience now, and the smaller group of hardcore readers seems to be just fine with using their mouse like they do everywhere else online. Joe also earns a few more nickels, which is always a good thing.
Joe thanks everyone for their patronage. Joe vows to continue his 24/7 brand of Bucs coverage with a renewed passion in the coming months.
"Simple as that," as Lovie Smith likes to say.