Many Fouled Up On 12th Man
December 1st, 2014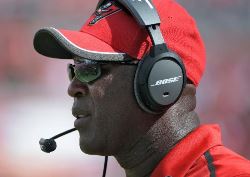 Joe thought it was honorable of Bucs head coach Lovie Smith to fall on his sword yesterday and say it was his responsibility to make sure there are not 12 men on the field (much less on consecutive plays).
He is right; at the end of the day, foul ups fall in the lap of the man in charge.
Joe has written you can decide for yourself who the guilty party was, per Josh McCown's explanation. It frankly wasn't Lovie. To hear from the man who hired Lovie to coach the Bears, as many as four assistant coaches were asleep at the switch.
Former Bears general manager Jerry Angelo, a former Bucs director of player personnel, does a weekly NFL question-and-answer piece with veteran sports columnist Gary Shelton at the author's new site, GarySheltonSports.com. There he explained how most NFL teams have safeguards to prevent such a stunt.
How do most teams handle the counting of players? Whose responsibility is it?

The persons who are in the best position to see what's going on are up in the box. As a rule, there are no less than 3 offensive assistants in the box. One of them should have caught the personnel mistake, as well as the on the field position coach. He above all should know what personnel package is on the field given the situation. You rarely see 12 offensive players in alignment on the field, as we did Sunday. Simple, because they know the play and who is supposed to be in the game. It was huge mistake, and it cost them the game.
For those asking, the Bucs wide receivers coach is Andrew Hayes-Stoker. Tight ends coach is Jon Embree. Just to refresh your memory, Oneil Cousins had checked in as a tight end to replace wide receiver Robert Herron.
Angelo noted that rarely do you see teams line up with 12 men and, apparently, the Bucs did this twice.
Unreal dysfunction there folks. And yes, as Lovie suggested, at the end of the day, that eventually falls on the desk of the head coach.