"I'm Not Going To Start Throwing Stuff"
December 1st, 2014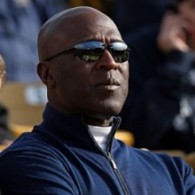 Lovie Smith was asked today whether he is angry.
Lovie didn't deny his inner rage.
"Am I angry right now? I guess the only way I wouldn't be angry is if I was satisfied with what's going on right now," Lovie said this afternoon at One Buc Palace. "I'm not going to start throwing stuff, kicking guys around, getting physical on the sideline. But, uh, disappointed where the football team is right now."
Joe can only imagine how frustrated Lovie is. Earlier in his news conference, he acknowledged the Bucs' intense woes with penalties are a new experience. Lovie said he's learned first-hand how penalties can negate a team winning a game's turnover battle, like the Bucs did Sunday against the Bengals..
Joe hopes Bucs fans stay calm like Lovie and don't throw stuff.