Two Charles Sims
December 1st, 2014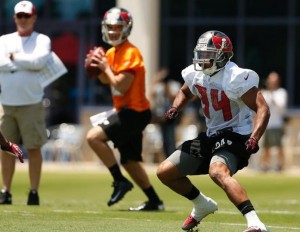 Joe's noticed a trend.
When rookie running back Charles Sims runs the ball, he doesn't resemble the Charles Smith who catches passes.
Sims has 32 carries for 87 yards. Those numbers are lousy, but Sims also has shown little flash in the ground game. It could be due to recovering from major August ankle surgery, but Sims looks like a totally different player when he's catching balls out of the backfield.
The eye test reveals a more comfortable and confident guy when he's asked to be a receiver.
Yesterday against the Bengals was a shining example. Sims carried five times for six yards, but was dynamic in the passing game, tied with Mike Evans for the team lead with four receptions for 49 yards.
Here's video of Sims' big run of the afternoon. That sure looks like a guy who's already healthy.
How Sims' games evolves this month likely will be a key component to the Bucs' offseason.