Lovie Pledges "Aggressive" Free Agency
December 22nd, 2014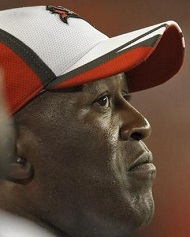 Bucs overlord of football operations Lovie Smith took to the podium at One Buc Palace today and was his usual glass-half-full self about the future.
This isn't surprising. Lovie believes the Bucs are "on the verge" already.
Lovie talked about how the Bucs won't be thinking about anything but beating the Saints on Sunday, and they'll continue to play to win in March.
"Like always, we're going to be as aggressive as possible to improve our ball club in any way, through every phase, free agency, draft, etc.," Lovie said.
Joe has no doubt Lovie and Jason Licht plan to attack free agency. This isn't 2010; NFL teams have to spend a majority of their money under the new labor agreement, and the Bucs will have plenty to spend once they shed some of the multiple players and salaries weighing them down.
Remember, Lovie began his reign saying he believes in spending every available nickel on players.