Bucs On 2013 Sacks Pace
December 2nd, 2014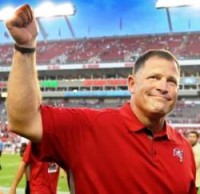 Joe's got his calculator out, and it showsTampa Bay is on track to equal its sacks total of 2013.
Wait a minute.
Who could have imagined such a thing three months ago?
Right now, the Bucs have 26 sacks, good for 18th best in the NFL. That puts Tampa Bay on pace for 35 sacks, their 2013 total.
Hitting that mark likely will require serious production the next two Sundays in Detroit and Carolina. Matthew Stafford and Cam Newton get dropped an average of three times a game. Aaron Rodgers and Drew Brees, who the Bucs face in their final two games, don't take a load of sacks.