Lovie Confidence Rating Dips To 34.2 Percent
December 25th, 2014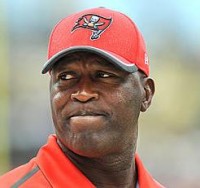 There are multiple ways to interpret the weekly data from the Lovie Smith confidence poll.
The latest results reveal confidence in Lovie is waning, but confidence is higher than it was in early November.
This week, 34.2 percent of the JoeBucsFan.com studio audience claimed confidence in the head coach. That's down from about 38 percent last week.
Here's the current breakdown:
Totally confident  5.17%
Very Confident     5.69%
Confident            23.45%
The majority expressed "little confidence" or "no confidence" in Lovie. These things happen when you're a two-win team.
Following losses at Cleveland and at home against Atlanta, however, Lovie's confidence rating hovered at about 32 percent. So Lovie hasn't really hasn't lost any in his core fan base in weeks.