"Just Another Person Can Help"
December 21st, 2014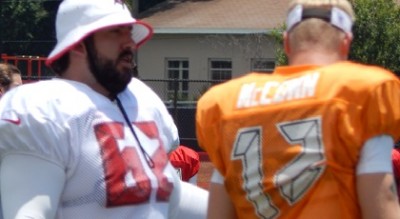 Joe would like to thank Josh McCown for making a postgame point today that Joe's made for months:
The Bucs could use another offensive coach.
One stunning happening this season was Lovie Smith's unwillingness to hire a coach or consultant to help fill the void of former offensive coordinator Jeff Tedford.
The Bucs lost their offensive mind, their artist, a guy who was poised to work 80 hours a week on the offense, yet Lovie didn't find it worthwhile to hire another body to help out.
Why?
Would it have hurt to bring in Kevin Gilbride or Chan Gailey for a few weeks to study film and work with Arroyo?
There are plenty of other seasoned, retired offensive minds out there. Marty Schottenheimer, anyone?
Heck, Chucky sits in his Tampa office watching film a couple of days a week. Maybe even just a quarterbacks coach with a load of NFL experience. Mike Sullivan's not working. Surely, Lovie had some connections, or could have tapped his connections.
But no, Lovie was content to dump more work on his offensive assistants and hand the offense over to Marcus Arroyo, a 34-year-old with no NFL experience.
And what about Lovie himself? Why didn't he slide over and work nearly full-time with his defense? Just last week, Lavonte David said Leslie Frazier was calling the shots on defense.
McCown passionately lamented the loss of Tedford and its significance and talked about how the offensive staff was left shorthanded.
"Just another person can help," McCown said. "When everyone's workload gets split, it makes it tough. [Offensive coaches] have never made an excuse, but the reality is when that happens, it's hard to be at your best."