Josh McCown's Thoughts On Retirement
December 23rd, 2014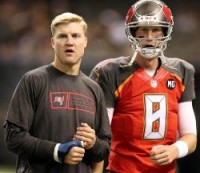 Josh McCown turns 36 years old before next season, and he's taken quite a beating lately.
So Joe thought it was timely to ask McCown today whether he's thinking about hanging it up after the season, and whether he's thinking about Sunday possibly being his last game.
"You know what, I try to approach every one of them that way, just so that you get the value, you enjoy the moment, and you know, you get everything out of every game," McCown said. "I don't know if it's at that point yet. Obviously, right now, at this point in the season, and your body's tired and all those things. But once you get away from it, it kind of resets things. I feel good. My plan right now is to keep playing."
Sure, Bucs fans are cringing at the thought of McCown quarterbacking Tampa Bay next season, but surely McCown would be a sound backup mentoring an elite rookie quarterback prospect.
McCown's response led Joe to believe McCown plans to return but does plan to weigh that against life after the NFL. One certainty is the Bucs shouldn't pay McCown the $4 million+ he's due next season.