"I Got Cleared To Play Yesterday"
December 23rd, 2014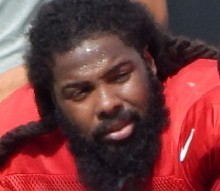 Adrian Clayborn got plenty of face time on the Bucs-Packers broadcast on FOX, patrolling the sidelines with his teammates.
Will he be back next season?
The Bucs' starting left defensive end, before being lost after opening day with a pectoral injury, Clayborn will be an unrestricted free agent in a matter of weeks.
Today, Clayborn told Joe that he feels great and, "I got cleared to play yesterday," meaning Bucs doctors have signed off that Clayborn is ready to start doing football activities.
However, Clayborn is on injured reserve and can only continue to rehab.
Lovie Smith raved about Clayborn's work ethic in the summer and likened it to Gerald McCoy's. Joe recalls defensive line coach Joe Cullen saying the same thing.
Unlike many players on IR, Clayborn often is seen by media in the locker room during the season. Clearly, he's engaged and has stayed part of the team.
Joe wouldn't be shocked if the Bucs considered offering Clayborn a prove-it kind of contract.