Jameis Watch: "Sanctuary"
December 31st, 2014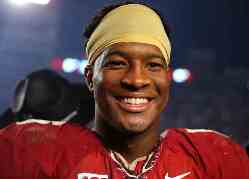 Crab-legs-stealing, BB-gun-shooting, obscenity-hollering, Heisman-Trophy-winning, national champion James Winston, the pride of Florida State University, continues to look like a much better quarterback prospect than Mike Glennon and Josh McCown.
It's Joe's daily nugget on the Jameis Watch, celebrating the best quarterback to wear No. 5 ever in the state of Florida.
Yesterday, Joe brought word that Bucs general manager Jason Licht wants a laundromat-behaving, football-addict for his signal-caller.*
Now some might thing that dismisses Florida State quarterback Jameis Winston because he is also a baseball guy, and a helluva pitcher. But last week while preparing for the Rose Bowl, Winston let it be known football is his religion and the 50-yard line is his tabernacle, writes Natalie Pierre of AL.com.
The quarterback said there was no relief that he gained, and that nothing changed when former Florida Supreme Court Judge Major Harding announced that he was found not to have violated Florida State's Code.

"I really don't focus on that," said Winston, who addressed the media this week for the first time since Harding announced his ruling just over a week ago. "I usually just use football as my sanctuary, and focus on my academics, and do the things I need to do."
And given Winston's resume, that would include winning.
Joe just doesn't understand how so many Bucs fans recoil at the thought of Winston leading the Bucs. You can't tell Joe that right now he isn't better than Josh McCown. And unlike McCown, all Winston does is win.
Isn't that what Bucs fans want, wins?
Even Winston's harshest critics have to commend him for his laser-like focus on football. Nothing seems to rattle the guy.
* — If Licht drafts a quarterback.