Duron Carter = Kelly Campbell
December 31st, 2014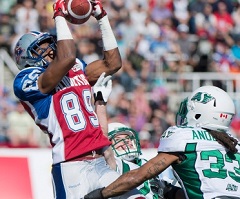 Joe realizes many Bucs fans are hot it the pants hearing reports of Tampa Bay giving Duron Carter, Cris Carter's son, a tryout this week.
Yawn.
Yes, Duron Carter is fast, has a Hall of Fame dad, and was a standout rookie receiver in the CFL this season. But that really doesn't mean much.
CFL prospects are massive long shots. Carter didn't play much college ball because he was academically ineligible, and reports on his work ethic aren't pretty.
Remember the last true CFL superstar wide receiver the Bucs signed?
That guy was super fast, too, and he was the CFL's top receiver in 2008. His name was Kelly Campbell, inked by the Bucs in January 2009.
Joe even caught up with Campbell's CFL head coach, a former Eagles and Redskins assistant, to talk about CFL receivers and Campbell's extraordinary athletic talent.
But Campbell didn't look like much with the Bucs. He was fast, but his hands weren't there. He dropped a deep ball in the 2009 preseason from Luke McCown, and that seemed to end his NFL career. He played one more season in the CFL.
Joe wishes Carter luck pursuing a job, but you won't find Joe expecting anything.