Jameis Watch: Lockout Changed The Game
December 23rd, 2014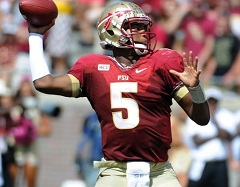 Crab-legs-stealing, BB-gun-shooting, obscenity-hollering, Heisman-Trophy-winning, national champion James Winston, the pride of Florida State University, continues to look like a much better quarterback prospect than Mike Glennon and Josh McCown.
It's Joe's daily nugget on the Jameis Watch, celebrating the best quarterback to wear No. 5 ever in the state of Florida.
Many, Joe included, point to how Jameis Winston typically plays in a pro-style set, which makes him more attractive as an NFL prospect because the learning curve won't be as steep on the big stage. By contract, University of Oregon QB Marcus Mariota is playing in a spread offense and would have to transform.
Former safety Charles Davis, seen often as a FOX college football analyst and on NFL Network, made a great counterpoint today on CBS Sports Radio.
He agreed Winston is more suited to the pro game right now and is a better NFL prospect than Mariota, as it relates to instant success. However, Davis talked about how the 2011 lockout changed the approach in the NFL.
Davis said incorporating college concepts that were familiar to 2011 rookies Cam Newton and Andy Dalton could not be shunned by their NFL offensive coordinators. It was a matter of urgency, Davis said. There was just no time to teach Newton and Dalton,with players reporting to work in late July, post-lockout. So there was a lot of college football in those Panthers and Bengals offenses.
Both went on to stellar rookie seasons that included Pro Bowl appearances.
Davis said it was a game-changer season that paves an easier path for Mariota.
Regardless, this further illustrates just how important it is for the Bucs to have the No. 1 overall pick, not No. 2, so they can pick an offensive coordinator that exactly suits their choice of quarterback.