Jameis Watch: "Extraordinary"
December 27th, 2014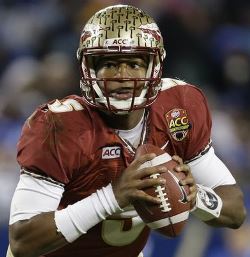 Crab-legs-stealing, BB-gun-shooting, obscenity-hollering, Heisman-Trophy-winning, national champion James Winston, the pride of Florida State University, continues to look like a much better quarterback prospect than Mike Glennon and Josh McCown.
It's Joe's daily nugget on the Jameis Watch, celebrating the best quarterback to wear No. 5 ever in the state of Florida.
Just think of the word "extraordinary." It means remarkable, exceptional, sensational. That is the word that Charlie Campbell of WalterFootball.com used in his breakdown of Florida State quarterback, Jameis Winston.
Campbell wrote a great deal on Winston and believes, if you are looking for a quarterback, you can start and stop with Winston.
As a pocket passer, Winston is extraordinary. He is a phenomenal in the pocket and can carve up a defense. Winston has very good field vision and does a superb job of scanning the field while working through his progressions. It is an innate ability that Winston has displayed from the very beginning of his tenure as a starter. He hangs tough in the face of the pass rush, steps into throws when he's going to get hit, and moves well in the pocket while keeping his eyes downfield. Sources say that Winston has a good football I.Q. and will impress teams in pre-draft meetings.

Winston also has great anticipation and timing. For example, he has had pressure in his face but still throws passes before receivers make their break so the ball hits them between the numbers as soon as they turn around. Those are phenomenal throws for any level of football. Winston also throws some brilliant passes into tight windows to beat good coverage. When plays break down, Winston can make plays with his feet, and if defenses leave it open, he will hurt them on them on the ground.
What more can Joe add? Winston very well could be the savior of the Bucs franchise. Do the right thing Bucs, lose tomorrow. Reach for the stars. Grab Winston.