Jacquies Smith Mic'd Up
December 26th, 2014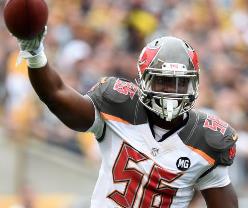 Joe wants to applaud NFL warden commissioner Roger Goodell and the good folks on Park Ave. for seeing the light lately on social media.
For reasons unclear, the NFL recoils at the thought of adding embed codes to its videos so other sites can share them, even though the NFL would still get credit for the traffic and viewing numbers.
That has changed a little bit the past couple of months. The NFL is allowing teams to upload more and more video to Vine and YouTube. One such video was pretty neat. It was Bucs defensive end mic'd up for the Green Bay game last Sunday.
The video takes you behind the scenes, on the bench and onto the field with the Bucs. It's cool.