Bowers Talks To Joe
December 26th, 2014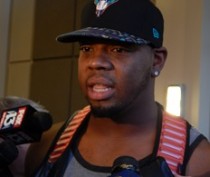 Da'Quan Bowers won't be headed to a Pro Bowl anytime soon. But he might have to come off Joe's list of the 20 Worst Buccaneers Of The Past 10 Years.
Bowers was switched to defensive tackle this season and has proved to be a capable backup at the position.
If the Bucs had only realized Bowers' inside potential during his rookie year, the Albert Haynesworth debacle could have been voided and Bucs history might be a lot different.
Props to Lovie Smith and staff for their evaluation and insight.
Again, Joe's not saying Bowers has lived up to his draft hype, but at least he looks like an NFL player now. And at 24 years old, Bowers might have a career ahead of him.
Joe caught up to Bowers this week to talk about all kinds of subjects. Here's what Joe can share:
JoeBucsFan.com: How much are you enjoying the move inside from a football perspective?
Da'Quan Bowers: I like to be able to use my, you know, quickness against a little bit slower opponent. So it seems to work in my favor most of the time, especially in the run game. It's a different type of feeling, but other than that I think I've transitioned to it pretty well.
Joe: Have you put on weight to do it? Or has the team tried to remake your body a little bit?
Bowers: Actually, no. I hadn't put on any weight or change really anything. I was already playing between 280 and 285, and right now I'm 287 or 288. So not much body transition at all.
Joe: Is there one big technical thing inside that's challenged you, or something you've been working hard on?
Bowers: Just understanding the different schemes that you can get from 3-techinique, nose and defensive end. Being able to play all three has really helped me out this year. I truly believe that. I'm really looking forward to this last game.
Joe: Like a lot of guys, your contract is ending. Is being a free agent on your mind, something you're thinking about and motivating you to put great work on film?
Bowers: I'm not thinking about it. You know, my focus is to try and help this team close out the season in a positive way. We need that. For right now, I'm still a Tampa Bay Buccaneer, so all my efforts are going toward helping this team win.