"I'm Perfectly Fine, Man"
December 10th, 2014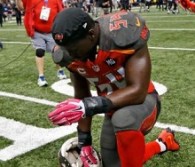 Drilled in the head in Detroit, Lavonte David left the game with a concussion.
Speaking Monday night on Total Access on the Buccaneers Radio Network, Lavonte David soothed the fears of Bucs fans everywhere and talked about his other injury.
"I'm perfectly fine, man," David told host TJ Rives. "Just going through some protocols, whatever right now. But I feel perfectly fine, man. Should be ready to go this week."
David said it was just a knee to the back of his head from Lions receiver Calvin Johnson, the shot clearly seen on TV.
David called it a fair football play that's just part of the game.
Regarding his previously bum hamstring, that kept him out of the previous two games, David said he felt great in Detroit and was glad he was rested to heal.