Jameis Watch: A Reluctant Gators Endorsement
December 10th, 2014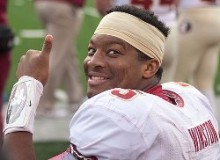 Crab-legs-stealing, BB-gun-shooting, obscenity-hollering, Heisman-Trophy-winning, national champion James Winston, the pride of Florida State University, continues to look like a much better quarterback prospect than Mike Glennon and Josh McCown.
It's Joe's daily nugget on the Jameis Watch, celebrating the best quarterback to wear No. 5 ever in the state of Florida.
Joe loves hearing quarterbacks talk about Jameis Winston, a guy the Bucs could draft with the No. 1 overall pick in the 2015 NFL Draft, if Tampa Bay keeps its current coveted draft position.
A QB who weighed in yesterday on CBS Sports Radio is Danny Wuerffel, the former Gators great who also spent six years in the NFL.
It's painful for Wuerffel to glow about a Florida State player, he admits, but Winston has his respect. The intangibles of "winner" and "battler" win out.
"The thing that has impressed me most watching him goes back to what I saw in the championship game last year. There are a lot of guys, when things go well, they're positive and they'll knock it out of the park. But then when things start to turn, they'll tank. And I never forget, you saw it in his eyes, 'Oh man, this guy's getting ready to tank.' and he pulled through and did it well," Wuerffel said.

"And I think you've seen that so many different times. It's real impressive to watch him do that. He's a Seminole playing for big things, so I'm trying not to be too excited about him."
You can watch the Wuerfful interview below. The Winston-specific talk picks up about the 4:30 mark.