Report: Cam Newton Out, Derek Anderson In
December 10th, 2014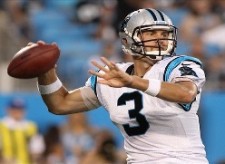 It sure looks like the Bucs will square off Sunday against the fourth-best quarterback in the NFC South, Derek Anderson.
A new report says he'll be replacing Cam Newton, whose truck flipped over yesterday, an even that landed him in the hospital overnight.
Jason La Canfora, of CBS Sports, just churned out a video that explains it's definitely Anderson, who carved up the Bucs in Week 1. Anderson completed 24-of-34 passes for 230 yards and two touchdowns.
Dear Lovie Smith, please, don't let Panthers tight end Greg Olsen torch you again.
The La Canfora video is below: