"If You're The Glazers, You're A Little Hesitant"
December 16th, 2014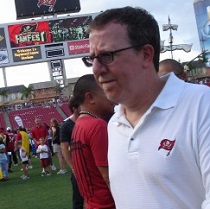 There's nothing quite like the Custodian of Canton, eye-RAH! Kaufman of The Tampa Tribune, weighing in on all things Bucs. He lets it fly in his unique Brooklyn style, and often he serves up a nugget on Team Glazer.
Kaufman didn't disappoint today.
Joining Ronnie and TKras on WDAE-AM 620 this morning, the veteran NFL scribe and Hall of Fame voter said he's not sure the Bucs will be going all-in with Team Glazer's checkbook when the free agency dinner bell rings in March.
Kaufman said the Bucs attacking the free agency market for the past three seasons, and largely failing, might change the team-building approach from the top down.
"They've spent all this money and they've gotten very little in return, guys. So going forward, next March, when Jason Licht and Lovie Smith says, 'We want so-and-so and so-and-so in free agency,' if you 're the Glazers, you're a little hesitant," Kaufman said. "And I think it's much more likely, gentlemen, that they stockpile draft picks and go that way, and I think that's probably the smarter way."
Joe thoroughly disagrees with Kaufman. This isn't the 2010 NFL, teams have to spend money. The new labor agreement demands more parity in spending.
The Bucs can do both: attack free agency and make moves to maximize the draft.
Free agency is only the devil, if you pick the wrong guys. But that doesn't mean you don't pick them.
Vincent Jackson was a big score. Carl Nicks played great before his season-ending injury in 2012. Guys like Michael Johnson, Josh McCown, Anthony Collins and Eric Wright were major whiffs. Dashon Goldson is to a lesser degree.
You can hear all of Kaufman, via the 620wdae.com audio player below.