"Coach Frazier Is Taking Control Of Everything"
December 16th, 2014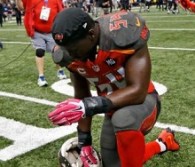 Lavonte David said today that he's been pretty pleased with his play this season.
But David also illuminated some of what's gone wrong with the Bucs defense.
David joined Ron and Ian  on WDAE-AM 620 this afternoon and multiple times cited "a lot of communication errors" early in the season.
He talked about "knowing where the next guy fits" taking time, and David said going forward "it's a lot more learning for me."
On Lovie Smith, David said "he still has that fire in him" and that despite losing, Lovie is still the same guy, not pointing fingers, holding everybody accountable."
Interestingly, when pressed about the delineation of duties when it comes to coaches running the defense, David said Lovie Smith is more of a CEO type who lets his people work.
"Coach Frazier is taking control of everything," David said.