Jameis Watch: "Impeccable"
December 16th, 2014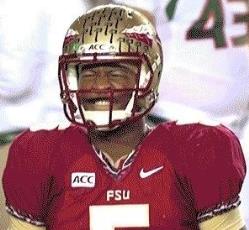 Crab-legs-stealing, BB-gun-shooting, obscenity-hollering, Heisman-Trophy-winning, national champion James Winston, the pride of Florida State University, continues to look like a much better quarterback prospect than Mike Glennon and Josh McCown.
It's Joe's daily nugget on the Jameis Watch, celebrating the best quarterback to wear No. 5 ever in the state of Florida.
Yes, Joe has made no secret he would do cartwheels down Dale Mabry Highway — or, in lieu of gymnastics, drink many, many beers — if the Bucs somehow got Florida State quarterback Jameis Winston on their roster.
For Joe, the guy just looks the part of a pro style quarterback, not a gimmick-offense quarterback who doesn't know if he can play in an NFL offense.
Oh, Joe loves Winston's gun, his unbelievable clutch habit of rallying late, his unblemished record on the field, and most of all his accuracy.
Joe remembers watching Winston's inaugural college game against Pitt with Pitt fans. Winston threaded needles where Joe literally had to do a double-take. At one point, Joe exxlaimed out loud, "He completed that?!"
Obviously, that season, Winston had a magical year, putting the Seminoles on his back to the national championship. Ben Kercheval of BleacherReport.com believes  Winston set such an unreal bar, that anything less than perfection and people want to rag on Winston. He says that's not fair.
Winston's ball placement is impeccable. He makes some difficult throws look easy. There's something to be said for that. He's not a gifted runner like Mariota, but he's athletic enough to move around in the pocket and make plays with his feet when he has to.

In short: Winston didn't magically morph from the most outstanding player in college football a year ago to a nobody. In fact, Winston went from his worst game of the season against Florida to his best against Georgia Tech in the ACC Championship Game (21-of-30 for 309 yards and three touchdowns).