History Suggests Big Day For V-Jax
December 21st, 2014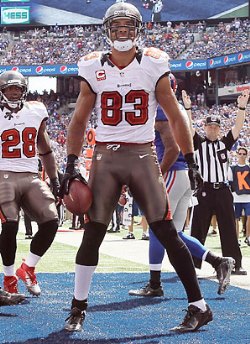 The only thing right about the offense of the Bucs is the wide receivers. Mike Evans very well may be rookie of the year and Vincent Jackson is quietly having a Pro Bowl-like season.
The outlook today appears grim with hotshot Hollywood starlet-shagging Packers quarterback Aaron Rodgers coming off a bad game. Rodgers is lethal after bad game, not that he has had many of them.
Also, the Packers are still fighting for their playoff lives.
One bright spot for the Bucs, if you look at history, is Jackson's numbers against the Packers. He has never played the Packers as a member of the Bucs, but did twice while playing for the Chargers.
In 2007, Jackson had six catches for 98 yards and a touchdown. Three years later, Jackson caught seven passes for 141 yards and hauled in a career-high three touchdowns.
If the Bucs have any prayer against the Packers, Joe believes Jackson will have to replecate his past performances against the Green and Cheddar.