"He's A Very Raw Player"
December 17th, 2014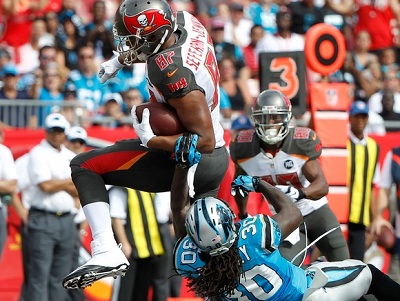 Bucs fans will want to absorb this breakdown of tight end Austin Seferian-Jenkins — from his position coach.
Joe's been a big fan of Seferian-Jenkins, who displays a great attitude and really was a shining talent through so many preseason practices. Fans didn't see much of that, but Joe sure did.
"ASJ" sprained his ankle on opening day, following a 26-yard receptions from Josh McCown, and he's battled various ailments since, now landing on injured reserve with a bad back.
Any player must stay healthy, but the rookie managed to make a standout impression on his position coach, veteran NFL man Jon Embree.
Speaking on Total Access on the Buccaneers Radio Network this week, Embree broke down why he likes ASJ.
"I've been pleased with a few things out of him. No. 1, his ability to grasp the gameplan and go out there and play. You know, he's made very few mental errors from an assignment standpoint. The other thing about him is as he was able to get reps in practice, he got better. Whether it was his footwork in the run game, his pad level," Embree said.

"He's a very raw player. I think people forget he's only played three years of college football. He came out early, and then we didn't get him in OTAs. And so he missed a lot of that time where things like footwork, things like pad level, hat placement in the run game, a lot of things that he had no idea what was required of him or how I wanted it done.

"He got better at. He just had so many limited reps because of practice during the season, you don't get to do as much as you'd like. To his credit, we'd go out early every practice doing an individual [workout], really pretty much just me and him. And work on those things and the footwork and hitting the sled.

"It was really pleasing from a coaching standpoint to see how much better he was getting and things were happening naturally for him So that when that takes place, he can go out and play fast."
Joe's not down on the Bucs' second-round pick, who turns 23 next September. Joe's even willing to look past some foolish penalties and the Captain Morgan shtick.
Not every rookie explodes out of the gate. Seferian-Jenkins showed Joe enough to inspire hope.