Lovie Confidence Rating Holds Steady At 38%
December 17th, 2014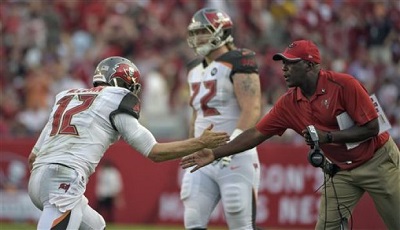 Tampa Bay Buccaneers fans appear to have drawn a line in the sand.
Sunday's second loss to Panthers' backup quarterback Derek Anderson, the ninth Bucs defeat in the past 10 games, did little to alter public opinion of overlord of football operations Lovie Smith.
The JoeBucsFan.com weekly confidence poll delivered stunningly similar results to last week's.
Here's how fans graded their confidence in Lovie over the past 24 hours:
Totally Confident – 4.04 %
Very Confident     – 6.81%
Confident              – 27.0%
Little Confidence – 31.96%
No Confidence     – 30.19 %
The only significant shift in the data was a rise in the "no confidence" total, which corresponded with a drop in "little confidence."
Imagine what a couple of wins at home to close the season would do for fans. Joe suspects confidence in Lovie would at least double.