Don't Need A Quarterback, Huh?
December 15th, 2014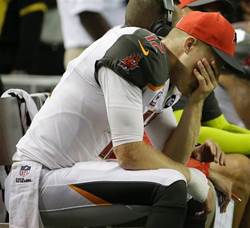 Joe knows Bucs fans like to hug onto this notion that defense wins championships like a child cuddles a teddy bear.
That notion is about as outdated as Latin.
Joe is convinced way too many Bucs fans would be just fine if the Bucs ran a wishbone offense with Tim Tebow and to hell with the forward pass. Just go full blast Woody Hayes.
This notion that you don't need a quarterback can't be any further from the truth. The facts are right in front of your eyes, displayed on the field of play whenever this year's Bucs squad trots out to play. John Breech of CBSSports.com provides the evidence.
This season has turned into one giant 'What if' for the Buccaneers. The loss to Carolina was the eighth time this season that Tampa Bay has lost by one score or less. Four of those eight have come by five or less points.
Think about that. Eight freaking losses by one score. EIGHT! They'd be in the playoffs if they won six of those games.
Yet Lovie is like Capt. Edward Smith, hitching his tenure to a grotesque turnover machine who should be thankful he has an NFL gig the way he plays so recklessly with the football.
Icebergs be damned!
Imagine if the Bucs just had an average quarterback, a guy who could lead the team late in the game on a drive that consists of 30 yards or longer?
Yet to hear too many Bucs fans, the Bucs don't need a quarterback.
Hello, wishbone.