Bucs End Seasons Of Gerald McCoy, Austin Seferian-Jenkins And Louis Murphy
December 15th, 2014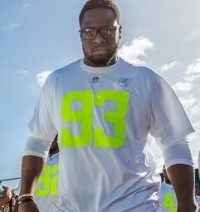 For the third time in five years, Gerald McCoy ends his season on injured reserve, Lovie Smith announced today.
McCoy has a "knee sprain," Lovie said, that should not require offseason surgery.
Rookie tight end Austin Seferian-Jenkins and veteran wide receiver Louis Murphy also were placed on injured reserve.
"None of these are injuries that will keep them out of circulation for a long period of time," Lovie said.
McCoy finished with 8.5 sacks, one less than last season.
Lovie said Seferian-Jenkins did enough to impress and proved that he can play with pain. The big rookie had various injuries through the season, including an ankle sprain on opening day.
Regarding Murphy, Lovie said he did enough to return next season and was impressive, especially, for coming off the street and contributing.