Mike Evans' Sharp Decline
December 15th, 2014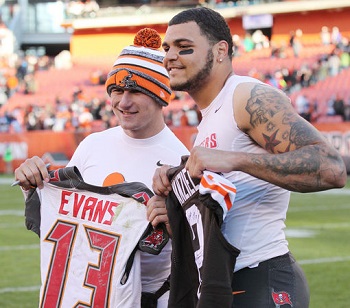 Mike Evans is so darn talented and hard working, nobody seems concerned that he's been rather unproductive through the past four games.
NFL defenses wake up fast — and now Evans has to respond.
Through his past four games, Evans has just 13 catches for 154 yards. That's scary bad for a guy Bucs fans expect to be their No. 1 receiver next season.
Yes, Joe knows Evans has four TD catches in that stretch, and that Evans tied mattress-in-the-yard Mike Williams for the Bucs' rookie record of 11 touchdown grabs. Evans has made plays, but the league has caught up to him a bit.
Evans is getting more attention — Josh McCown and Lovie Smith have talked about this extensively on their radio shows — and that won't change anytime soon.
It's no surprise that Vincent Jackson has had two of his three 100-yard games receiving during Evans' decline. Somebody has to be open.
Now if the Bucs can only get another receiving threat on the field and a real quarterback, the Bucs should have an offense worth watching.