Charles Sims "Needs Major Work"
December 12th, 2014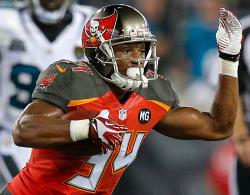 Joe can think of two guys who have had bad seasons on the offensive side of the ball because of circumstances beyond their control. One is acting offensive coordinator Marcus Arroyo. The man is simply over his head in a no-win situation.
The other is Charles Sims.
The rookie running back much heralded by Lovie Smith blew out his ankle in training camp and didn't see his first snap of regular season football until he was activated against the Dixie Chicks in Week 10.
For reasons Joe isn't quite sure of, Sims was thrown into the hot mess that is the Bucs offense, almost as if Lovie was trying to force-feed Sims into life as an NFL running back. It sure looks like he isn't quite ready.
With the exception of one play, Sims sure looks all sorts of mediocre to Joe. It seems Andy Benoit isn't that impressed, either. The football film guru for theMMQB.com broke down the tape of the Bucs-Lions game and was irked by Sims' blocking.
#Bucs Film: RB Sims needs major work in pass pro. Number of snaps where he executed poorly.

— Andy Benoit (@Andy_Benoit) December 12, 2014
Again, Joe thinks Sims is swimming upstream. He lost so much time this year due to his ankle and, honestly, Sims is hardly the only guy struggling with the Jeff Tedford Arroyo offense.
If Sims can have a full, healthy offseason with a decent offensive coordinator in a decent offense, then with maybe just a wee bit of blocking, perhaps he can live up to the hype Lovie pumped up.