Lavonte David's Injustice
December 13th, 2014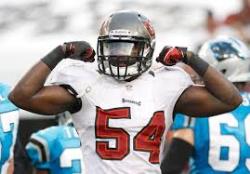 There is little doubt Lavonte David is one of the best outside linebackers in the NFL. Maybe the best. Joe wouldn't argue.
But when fans vote for the Pro Bowl, they don't often look at David's tackles and his sideline-to-sideline play.
They look at sacks, which is something David isn't asked to do (but perhaps, should).
Thus, David often gets overlooked and it has usually reserved Bucs coach Lovie Smith all sorts of fired up. In no uncertain terms, Lovie thinks David is getting screwed by lumping him in with 34-defense outside linebackers. David is now eighth in the voting at the position.
"One of the injustices out there is how we do that," Lovie said. "For us, those aren't outside linebackers. You guys got a few minutes? We could talk about this for a while. [Pass-rushing] outside linebackers, those to us are defensive ends – those are rush guys. To me, as I talk about a linebacker, I'm talking about a guy that can play in space, that can rush, that can drop, [play] man coverage, there's a wide variety of things that we're asking him to do as opposed to – most of the time when those Pro Bowl ballots go in, you look, 'OK, how many sacks does he have?' Outside linebacker. See, that's not what I'm talking about.

"Thank God they didn't hold that against Derrick Brooks. Because Derrick, how many sacks did [he have]? Not a lot of sacks. But a linebacker who can do it all, that's what we talk about on the outside as our guys, and he's as good as there is at doing that."
Joe is convinced had Brooks been asked to blitz and sack more, he would have been thought of as the Lawrence Taylor of his time. Brooks was that good, that fast, that devastating.
And Lovie is right. David is getting hosed by Pro Bowl voters because, quite simply, they don't know any better.