Anthony Collins' Last Stand
December 12th, 2014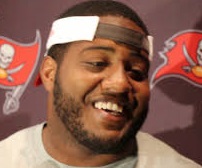 After a game off with an elbow injury, Bucs left tackle Anthony Collins practiced all this week and should start against Carolina on Sunday.
In Week 1, Collins locked down Panthers' beastly pass rusher Greg Hardy, but Collins has had only a few good games since.
He's one of the leaders of Tampa Bay's long list of 2014 disappointments. But the 30-year-old big money man free agent has three games to possibly save his Bucs career.
If Collins plays pretty well, and with a hunger he showed at times this season, then Joe would expect Collins to return next season.
Yeah, the Bucs could cut Collins and eat a little cash (nowhere near Michael Johnson cash), but Collins has value in his versatility. He was a successful career backup before the Bucs gifted him a starting job. Collins played right tackle well for the Bengals, as well as left, and legendary personnel guru Gil Brandt has written several times this season on NFL.com that he believes Collins has could become a successful guard.
Yes, expect the Bucs to blow up their offensive line this offseason, but it won't everybody.
Maybe Collins could return and be a part of a real competition for jobs on the 2015 O-line.