Bucs Won't "Roll Over," Says Verner
December 25th, 2014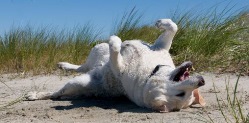 Bucs fans are jumping up and down as if Santa got them Rachel Watson for Christmas morning. Joe sure would be!
But what gets Bucs players jumping up and down is fans thinking they should lay down so the Bucs secure the overall No. 1 pick in April's draft. It doesn't go over so well in the locker room.
Guys are playing for jobs next year. They are updating video resumes, of sort, for prospective teams. Bet a lot of them won't be around next year.
Then there are the players at the crossroads of their careers. Guys who may or may not be with the Bucs next year, like Mason Foster (who may not play Sunday due to a bum Achilles) and Da'Quan Bowers, to name a couple. Those guys are going to want to play at a high level to showcase themselves. So if the Bucs wave bye-bye, a bank clerk job won't be atop their wish list.
Then there are the veterans, the quality starters who, barring a terrible injury, surely will be back. For Alterraun Verner, pride is key. He understands what the Bucs gain from losing, but fans are just going to have to suck it up if he has any say.
"Way too much pride," Verner said. "I mean, if we win, what are we going to drop, one or two spots anyway? It's not if we win we drop to pick-eight. So I don't think there is going to be too much difference in the spots. Yeah, there is way too much pride to roll over and play dead so we can get the No. 1 pick. Like, no. We are going to try to win it."
Verner has a fair point. No. 2 isn't so bad, but as Joe has pointed out before, what if Jameis Winston or Marcus Mariota blow out a knee in their next two games (yes, one of the two will play two more college games). Then at No. 2, you are likely picking your nose instead of picking the quarterback you need worse than Joe needs a cold beer on a steamy July Friday afternoon.
Let's just hope Saints players need to put out good tape just as badly as some Bucs players do.