Taking Lovie To Task
December 2nd, 2014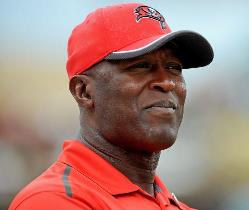 Joe suggested it before and it bears repeating. A team as sloppy as the Bucs, as undisciplined as the Bucs, and as reckless as the Bucs, that points to one person at the end of the day. That man's name is Lovie Smith.
Finally, it seems Lovie has reached his boiling point. After losing to the Bengals, the head coach stopped short of calling out players but didn't spare harsh words such as "stupid" and "dumb."
It was a breath of fresh air. Time for excuses is long over.
One guy who decided to rake Lovie over the coals for his sloppy team is Tom Jones of the Tampa Bay Times.
The Bucs are the dumbest, most undisciplined team in the NFL, and there is one man to blame for that: Lovie Smith — you know, the head coach.

This is his team, his responsibility. He's the one in charge.

And he is the one who needs to fix it.
Jones really hammers Lovie for all the dumb, knucklehead moves. This is largely on the offense. Jones said that if the players don't learn, then it's time for new players. And if the players don't get it, Jones says, maybe you may have to start looking at the source of the problem.
As Jones wrote, it is crazytalk to think of dumping Lovie after one year. Joe is certain Lovie will get a mulligan for not having an offensive coordinator. Losing Jeff Tedford was an Act of God.
Joe is pretty convinced there will be sweeping changes to the offense next year. Just what credible offensive coordinator worth his salt is going to want to work with Josh McCown and/or Mike Glennon? Then there is the mess on the offensive line.
Oh, there will be changes. How many and how significant, we will find out in a handful of weeks.