"Big Numbers" Or A Blowout
December 4th, 2014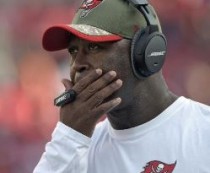 So how can Tampa Bay beat the NFL's No. 1 defense on Sunday?
A couple of top NFL analysts think one Buccaneer is the key.
That would be rookie Mike Evans. In this breakdown of Bucs-Lions, former Bucs scout, Jets coach and Jets personnel chief Pat Kirwan joins prickly Pete Prisco to proclaim Tampa Bay has no shot at running the ball and Evans will have to rebound from a quiet day against the Bengals.
It sure is a great opportunity for Evans to further impress nationally, if he can light up this stout defense.
Enjoy the video breakdown below. Kirwan and Prisco both predict the Lions will blow out the Bucs.