Bucs = "F"
December 4th, 2014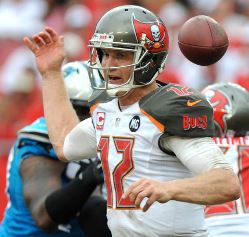 Joe understands why many Bucs fans just want to jump in the Gulf after watching the Bucs.
The offense is such a shambles, about the only way they can cleanse themselves properly is to submerge themselves in saltwater.
Even when the defense plays well and gives the Bucs a chance to win, the offense comes across as downright scared of scoring.
How else to explain how the team goes backwards when taking over after a pick from an opponent's nine-yard line — actually losing yards and settling for a field goal.
Either the offense is scared and gets rattled or the red zone is laced with the MRSA.
Now that the season is 75 percent finished, good guy Alex Marvez of FoxSports.com decided to grade each team in the NFL "Down the Stretch." Marvez was harsh on the Bucs, handing the team the dreaded grade of "F."
"It has been a disastrous debut season for Lovie Smith as Tampa Bay's head coach. Tampa Bay still has questions at the quarterback position and a defense that has struggled to learn Smith's trademark Tampa-2 scheme."
Well, Joe isn't sure you can rag on the defense. As Joe detailed yesterday, since the bye week, the Bucs have one of the NFL's better defenses. Granted, prior to the bye, the defense was a complete and total jailbreak replete with sirens and flashing red lights.
Has the offense earned the dreaded "F" grade? No question. Has the defense earned the dreaded "F" grade? No way.