Protecting Josh McCown
December 4th, 2014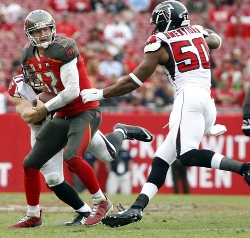 A few things, after watching 75 percent of the 2014 season, have become clear about Bucs quarterback Josh McCown.
McCown's intangibles are through the roof and he is a charitable soul, often giving to the opposing defense. Granted, McCown is often reckless, but it doesn't help that he often has little time in the pocket.
Rushed quarterbacks make hasty decisions, and those decisions usually play right into the hands of the defense. So yesterday, Bucs acting offensive coordinator Marcus Arroyo discussed whether McCown's not-so-great protection is why McCown is turning the ball over so much.
"I'm not going to go out and say that if you all of a sudden flip that over, then now it's because of protection he's throwing interceptions; that's not it at all," Arroyo said.

"Protecting the quarterback has been a mainstay – anyone at this level is trying to protect the quarterback. When there's a clean pocket, it makes for a very big difference as a quarterback. He can complete a throwing motion and all of those things, and when it's not, then you have to be able to create it in the pocket. [You must] create by moving around or outside and carrying the ball different, your carriage becomes different, your release becomes a little bit different, it has to quicken up and shorten up, you've got to understand time management and where you've moved in coordination with the way the route usually has to be at, and where to go with the ball.

"Obviously, we need to get better in all of the phases of turning the ball over and specifically the quarterback is what we've been talking about and we can't do it. Our turnovers are killing us and we know that, that's nothing we don't know. It's the No. 1 key to victory since Day 1, and our standards are not going to change and they won't and that standard will never change. It seems to be consistent."
Joe knows McCown could be playing 7-on-7 football and somehow find a way to turn the ball over. It just isn't pretty.
Sure, if McCown gets protection, it will help. How could it not? Might just narrow his big mistakes down to two a game.