"Why Don't They All Just Come Out In Dresses?"
November 6th, 2014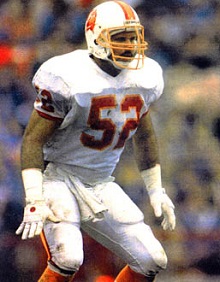 Strokes and seizures and other problems have plagued former Tampa Bay standout linebacker (1980-1987) and Gators great Scot Brantley.
A regular on local sports radio in the previous two decades, including a run alongside Gene Deckerhoff on the Buccaneers' radio broadcasts, Brantley joined the Ron and Ian show on WDAE-AM 620 yesterday.
Joe was hoping Brantley would bust out in his famous drawl about how football is still about "blockin' and tacklin'." But that didn't happen. Brantley, however, did detail his disgust for what the NFL has become when it comes to a passing league that won't let players hit old-school hard.
"Why don't they all just come out in dresses?" Brantley quipped.
You can catch the interview below. Below that is video of Brantley's most famous hit, one of more than 2,000 career tackles Brantley said he made since high school.
Ouch!